Veneers – Wall Township, NJ
Attain the Gorgeous Smile You Deserve
Do your teeth have so many cosmetic imperfections that you've lost count? You might feel like there's no hope for improving the appearance of your smile, but that couldn't be further from the truth. With a treatment known as veneers, Dr. Aptaker can help you finally attain the gorgeous smile you deserve. If you're tired of wincing when you see your teeth in the mirror, call us and schedule an appointment to learn more about veneers in Wall Township.
Why Choose Shore Points General and Implant Dentistry for Veneers?
Customized Treatment Plans for Every Patient
Results That Look Natural and Beautiful
Can Make Chips, Cracks, Gaps, and Stains Disappear
What Are Veneers?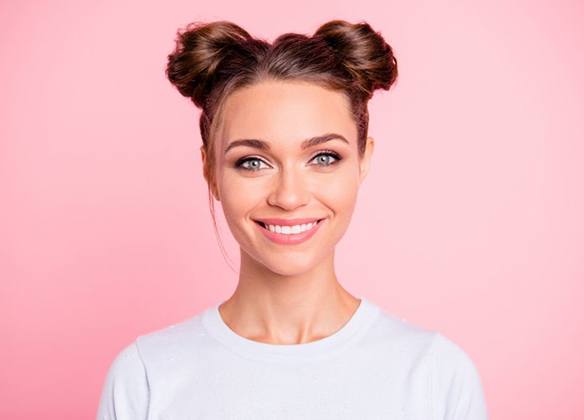 A veneer is a super-thin shell made of dental porcelain that is bonded to the front surfaces of your aesthetically displeasing teeth to drastically improve your smile. The reason we choose porcelain for these restorations is due to its remarkable ability to resemble tooth enamel. Once veneers have been placed within your smile, no one should be able to tell they're not the pearly whites you were born with!
Am I a Candidate for Veneers?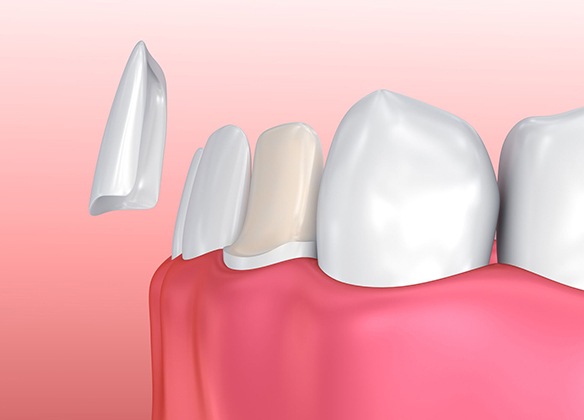 Virtually anyone who's unhappy with the way their smile looks could benefit from receiving veneers. As one of the most versatile cosmetic dentistry treatments, veneers can address many common smile imperfections, including:
Chipped, cracked, or broken teeth
Minor gaps between teeth
Stained or discolored teeth
Slightly crooked or rotated teeth
Teeth that are short, stubby, or worn-down
It's worth noting that because veneers are a cosmetic procedure, your mouth should be infection-free before getting them placed. At your consultation, your cosmetic dentist in Wall Township will examine your mouth for any problem areas that need to be addressed beforehand.
The Veneers Procedure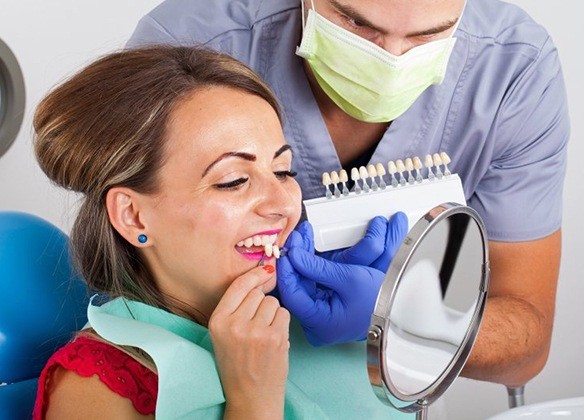 It usually takes at least two visits to place veneers. During the first of these appointments, we remove the outermost sliver of enamel from your affected teeth, which is necessary to make sure there is enough room in your mouth for the veneers. Impressions of the teeth are taken and sent to a dental lab, where your veneers are crafted to our exact specifications. In the meantime, we place temporary veneers to protect your teeth and allow you to try on your new smile.
When it's time to receive your permanent veneers in a few weeks, we roughen the surface of your teeth and apply dental cement. The veneers will be placed and then quickly hardened with a special ultraviolet curing light. After we make any final needed adjustments, you'll be ready to show off your new and improved smile to the world!
Benefits of Veneers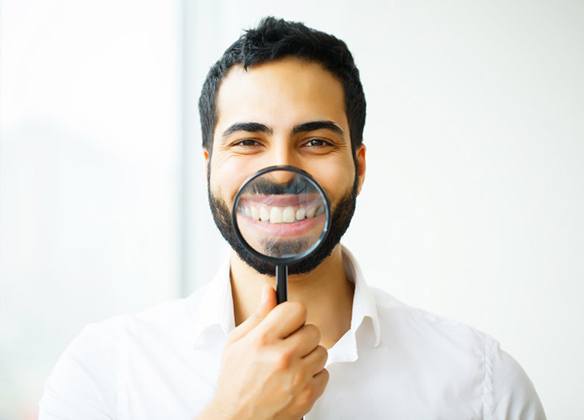 Here are just a few of the numerous advantages of veneers:
With veneers, a wide variety of cosmetic imperfections can be corrected with just one treatment.
Easy maintenance. All you have to do to take care of your veneers is brush, floss, and attend dental checkups on a regular basis.
Provided you take good care of them, your veneers can last for 10 or even 20 years before they need to be replaced.
Understanding the Cost of Veneers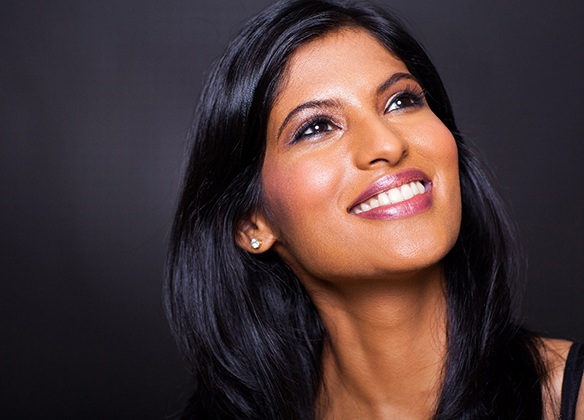 With the help of veneers, you can achieve that dramatically transformed appearance that so many of Hollywood's elite possess. Of course, when choosing veneers, you get what you pay for, so you'll want to make sure you see a professional with experience and training in placing these customized restorations. Otherwise, you'll be left with lackluster results and less money in your pocket. The cost of veneers in Wall Township is certainly a factor you'll want to consider, and just because they are a popular cosmetic solution doesn't necessarily mean they're the right choice for you. Spend some time reviewing all the available options and call our office to schedule an appointment.
Cost vs. Cosmetic Dentistry: What's Right for Me?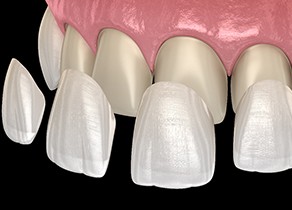 There are many different types of cosmetic services that each have different price points. No matter which one you choose, you can expect to see noticeable results that help to improve your appearance and boost your confidence.
Veneers: Although veneers in Wall Township are costlier than other cosmetic treatments, they are permanent. Not only can they transform the size and shape of your teeth but also the color. Also, you can expect to receive a new and improved smile in just two or three appointments, making them a highly convenient option.
Cosmetic Dental Bonding: Considered to be a more affordable way to hide imperfections, cosmetic dental bonding can fix minor issues (i.e., chips, cracks, small gaps). Also, you will need to have it redone every few years to maintain your results.
Teeth Whitening: Teeth whitening is a great way to quickly blast away stains and discoloration, but it is limited in its capabilities, as it cannot change the size and shape of your teeth. However, it is less expensive than veneers, so you'll need to determine what your ultimate goal is before deciding on a solution.
Invisalign: If crooked or misaligned teeth are the problem, Invisalign is a great way to fix these problems; however, they can be quite expensive and require several months or years to achieve desired results. Not to mention, they cannot reshape or change the color of your teeth.
How to Make Veneers Affordable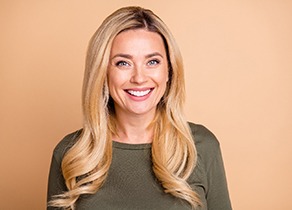 It's no secret that veneers are considered a cosmetic dental treatment. As a result, most dental insurance companies will not provide coverage. As a result, you will need to use an alternative way to pay for your new smile. Fortunately, your cosmetic dentist near Manasquan is pleased to work with CareCredit, which is a third-party company that offers flexible financing. By enrolling in a low or zero interest payment plan, you can break up the cost of your treatment into manageable monthly installments. As a result, you can stay within your budget while transforming your smile.
Veneers FAQs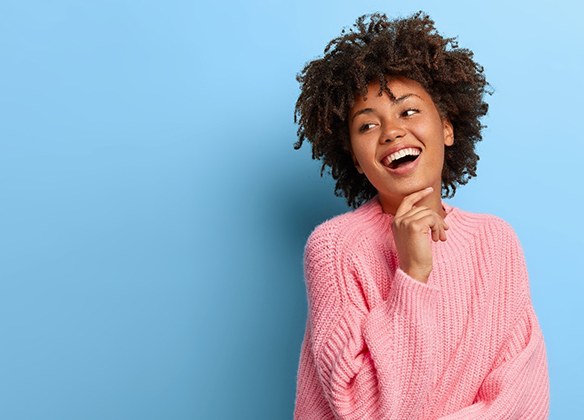 Are you eager to transform your smile? While there are many cosmetic treatments available these days, your choice to improve your appearance with veneers in Wall Township will leave you feeling more confident than ever before. But as you become more familiar with the process and expectations of life with these customized restorations, you may have additional questions. At Shore Points General and Implant Dentistry, Dr. Aptaker is pleased to provide the answers you need to solidify your decision to choose veneers. Review the information below and feel free to contact us to schedule an appointment and discuss further when you're ready.
What happens to teeth underneath veneers?
You don't need to worry about your veneers harming your natural teeth, but you should know that it's necessary for you to maintain good oral hygiene even after your veneers are in place. The placement of these thin coverings will not cause cavities; however, the natural tooth enamel beneath your restoration is still susceptible to decay. If left alone or neglected, it will begin to break down over time. Not to mention, you will put yourself at risk for cavities and gum disease. You can take additional steps at home to better protect your smile once your veneers are in place, such as brushing twice a day for two minutes, flossing at least once a day, avoiding tobacco products and smoking, limiting your sugar and carbohydrate intake, never using your teeth to open packages or containers, and visiting your dentist near Sea Girt twice a year for routine dental checkups and teeth cleanings.
Can I still drink coffee with veneers?
While it is true the materials used to create your veneers are more stain-resistant than traditional tooth enamel, the reality is that they are not stain-proof. No, they are not porous like regular teeth, and dark-colored beverages and foods like coffee, soda, red wine, berries, and even soy sauce are unlikely to penetrate and cause problems. However, consuming these items too frequently can lead to problems with your veneers and the way they look. It's advised that you drink your coffee in moderation or use a straw to keep the liquid from touching your teeth as much as possible.
Can you whiten veneers?
Unfortunately, there is no way you can whiten veneers. Even if they become stained over time, your cosmetic dentist in Wall Township will need to replace them, as this is the only way to achieve a whiter, brighter smile. Should you prefer to whiten your teeth, it's best to pursue whitening treatment before receiving veneers. That way, we can make sure that your tooth coverings will better match your brighter smile, avoiding an uneven appearance.
Is there anyone who shouldn't get veneers?
While most patients are eligible to receive veneers, some patients will need to look at other treatments. If you suffer from any of the following, you and your cosmetic dentist near Brielle will need to find another solution to transform your smile:
Your teeth have cavities. This can negatively impact your veneers and make it harder for your dentist to treat.
You have gum disease, which can hinder the accuracy of your impressions, which are necessary for proper veneer fit. If gum recession is a concern, veneers can expose the excess tooth structure over time.
You grind your teeth (bruxism). This should be treated before receiving veneers because the added pressure of the grinding and clenching can cause chips, cracks, and small fractures to occur.