Dental Bridges – Wall Township, NJ
Seamlessly Fill the Gaps in Your Smile
Even though teeth are relatively small, they play a huge role in our day-to-day lives. If you're missing several in a row, you may find it much more difficult to eat comfortably, speak clearly, and smile confidently. As if that weren't enough, those empty spaces among your pearly whites can collect plaque and bacteria as well, which increases your risk of numerous oral health issues. Thankfully, at Shore Points General and Implant Dentistry, we can quickly and seamlessly fill the gaps in your smile with a dental bridge in Wall Township! Read on to learn more, then call us to schedule your consultation today!
Why Choose Shore Points General and Implant Dentistry For Dental Bridges?
Highly Experienced and Talented Dental Team
High-Quality Custom Restorations for Beautiful Results
Traditional and Implant Bridges Available
What Is a Dental Bridge?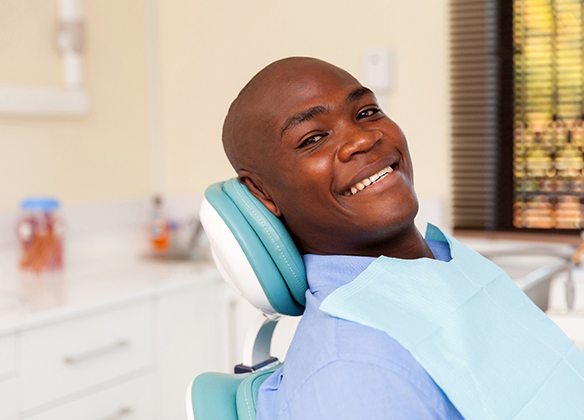 If you're missing one, two, or even three teeth in a row, a dental bridge can replace them all with a single prosthetic. Several beautiful, custom-made dental crowns are bonded together to recreate the missing portion of your smile. Then, the crowns on either end are fitted over the remaining teeth on either side of the empty space, supporting the rest of the replacement teeth firmly between them. Together, they "bridge" the gap left behind by your missing teeth.
Alternatively, dental bridges in Wall Township can be secured in place with dental implants. Instead of relying on your remaining natural teeth for support, implant bridges are supported by dental implants. These small, titanium posts fuse directly with your jawbone to become a permanent addition to your smile. During your consultation, we'll help you choose the best treatment for your unique smile.
What's the Process for Getting a Dental Bridge?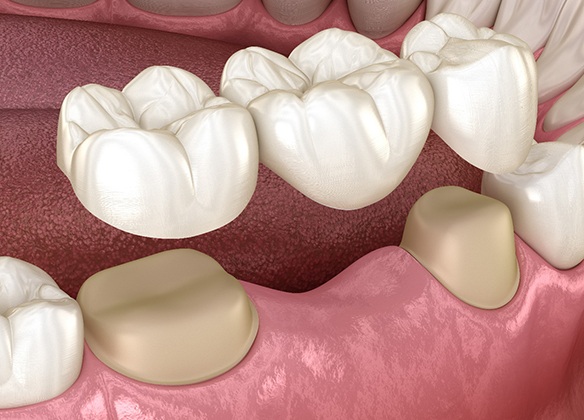 Restoring your smile with a traditional dental bridge typically only takes two appointments. First, the teeth on either side of the missing ones (the abutment teeth) need to be prepared. In most cases, we'll need to remove a thin layer of enamel to ensure that there's enough room for the dental crowns to be placed. Then, we'll take impressions of the area, which will be sent off to a dental laboratory to create your custom dental bridge.
Before you leave, we can fit you with a temporary bridge. This will protect your teeth and gums until your next appointment. Once we have your custom-made dental bridge, you'll return to our office to have it placed. We'll check to make sure it looks natural and that your bite is comfortable, then you'll be ready to show off your complete, confident smile!
What Are the Benefits of Getting a Dental Bridge?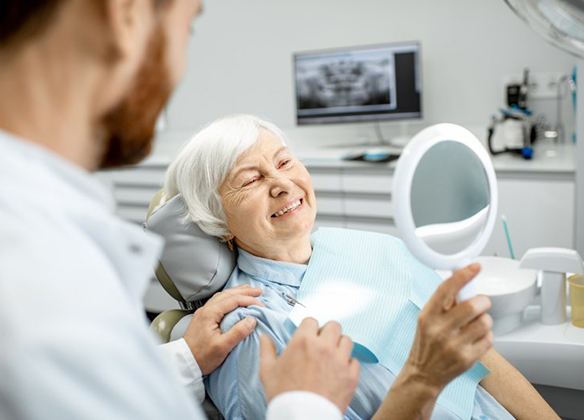 Traditional dental bridges are a classic way to replace several missing teeth in Wall Township, and it's easy to see why! These unique restorations offer benefits such as:
Quick and easy treatment
Improves appearance, chewing, and speaking
Easy to care for and get used to
Cost-effective solution for missing teeth
Helps prevent future issues like crooked teeth and bite problems
If you'd like to see if your smile can benefit from a dental bridge, don't hesitate to give us a call! We'll help you determine the best way to achieve the happy, healthy, and fully intact smile you deserve!
Dental Bridges FAQs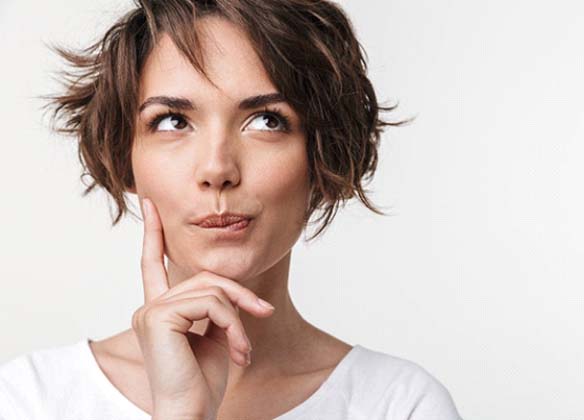 Are you ready to say goodbye to the gaps in your smile? You may be thinking about getting dental bridges in Wall Township. They'll allow you to enjoy a beautiful, complete, and fully functioning smile once again. Of course, we understand you may want to know more about this method of tooth replacement before committing to it. Below, we've decided to answer some of the most frequently asked questions we get from patients. If you don't see what you're looking for, feel free to give our friendly team a call today!
Is Getting a Dental Bridge Painful?
Before your procedure, Dr. Aptaker will thoroughly numb the area he'll be working on to ensure you're completely comfortable. In many cases, all that's needed is a topical anesthetic. However, severely anxious patients may benefit from dental sedation. While you shouldn't feel any pain during the preparation and placement of a dental bridge, the underlying teeth will likely feel sensitive for the next few days following your procedure. You can easily manage these symptoms by taking over-the-counter pain medication and rinsing with lukewarm water.
How Many Teeth Can a Dental Bridge Replace?
It depends on the patient's needs! A dental bridge can typically replace anywhere from one to four missing teeth in a row. There are some cases where a bridge is used to replace only one or two teeth. Of course, it's worth noting that the longer the bridge extends, the less stable it becomes. That's why it can be risky to use the restoration to replace three or more teeth. Dental implants can help lower this risk, which is why they're an excellent option to consider.
Do Dental Bridges Look Natural?
Dental bridges made from ceramic, zirconia, or other natural-looking materials closely resemble tooth enamel. Since your restoration will be color-matched to the rest of your smile, you can enjoy long-lasting results that blend seamlessly with your remaining teeth. Once in place, no one will even notice your dental work! Metal bridges don't look as natural, but they're really only used for teeth that aren't visible.
How Do I Clean Under My Dental Bridge?
To keep your dental bridge as healthy as possible, you'll need to take the time to clean underneath it. If you fail to do so, bacteria can gather in the gum tissue and cause your restoration to fail. Luckily, there are many different ways to clean under a dental bridge, such as:
Dental Floss – Loop the string through a threader and slide the pointed end underneath the bridge and out the other side. You can slide the floss back and forth under the restoration. Then, you can wrap the floss around each of the supporting teeth to clean beneath the gums there.
Interdental Brush – These contain puffy bristles that are attached to a wire. They're easy to slide in and out of the space under your bridge to remove food debris.
Water Floss – A water flosser is a device that releases a steady stream of water, which you can aim underneath your bridge. Since there are many different brands to choose from, you can find one with a pressure level and tip design that works best for you.