Dentures – Wall Township, NJ
Enjoy a Healthy, Complete Smile Once Again
At Shore Points General & Implant Dentistry, we understand how much tooth loss affects your quality life. And our outstanding dentist would love to help! Dr. Aptaker has the advanced training and experience to help you eat, speak, and smile with confidence after tooth loss. We offer several types of high-quality dentures and will tailor your treatment to meet your specific needs. If you're missing teeth and want to know more about dentures in Wall Township, contact us today. We look forward to helping you love your smile again!
Why Choose Shore Points General & Implant Dentistry For Dentures?
Get Expert Care From Our Outstanding Team
We Treat Even the Most Complicated Cases With Ease
Personalized Treatment For Your Individual Needs
Are You a Good Candidate For Dentures?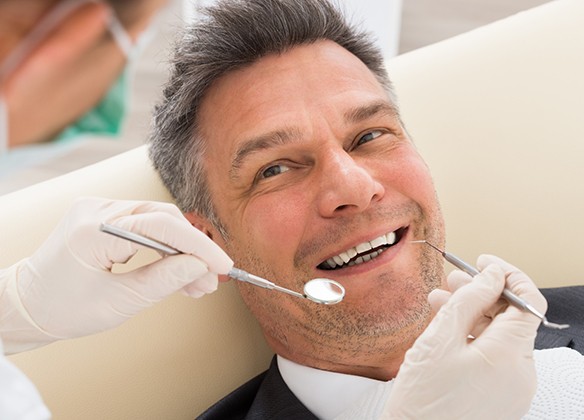 While each person's treatment plan will look a bit different depending on their medical and dental history, anyone with missing teeth can benefit from dentures. During your consultation, we'll evaluate your overall oral health, goals, and lifestyle choices such as smoking before recommending the best type of denture or other tooth replacement option for your needs.
Types of Dentures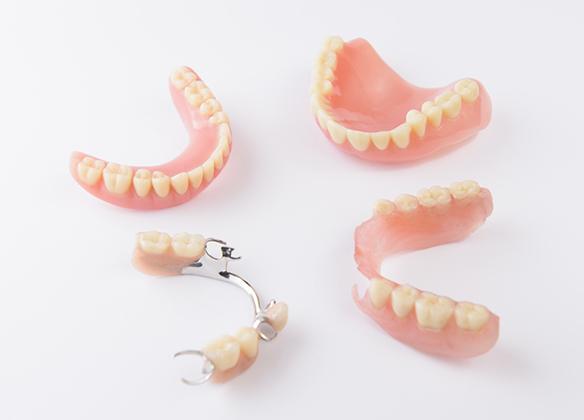 Full Dentures
Just as the name implies, full dentures include a full set of prosthetic teeth in a gum-colored acrylic base and are well-suited for people missing all the teeth in their top or bottom arch (or both). These appliances are held in place throughout the day with denture adhesive and natural suction and should be removed and cleaned each night. When properly maintained, including periodic adjustments by Dr. Aptaker, full dentures typically last 5-10 years before needing a replacement.
Partial Dentures
If you're missing just one or a few teeth and don't want a bridge or dental implants for any reason, a partial denture can be a great choice. Made with a gum-colored plastic base and/or metal framework, these appliances fit around your remaining teeth with clasps and need to be removed and cleaned daily.
Implant Dentures
While traditional dentures are a great solution for tooth loss, combining them with dental implants provides a number of unique benefits. In most cases, just two to eight implants are needed per arch to dramatically increase chewing strength and stability. Implants also help your appliance fit better and last longer and virtually eliminate the need for denture adhesive. With an implant denture, your jawbone and facial structure will be maintained over time and you won't have to worry about embarrassing "slips" during meals or conversations.
The Benefits of Dentures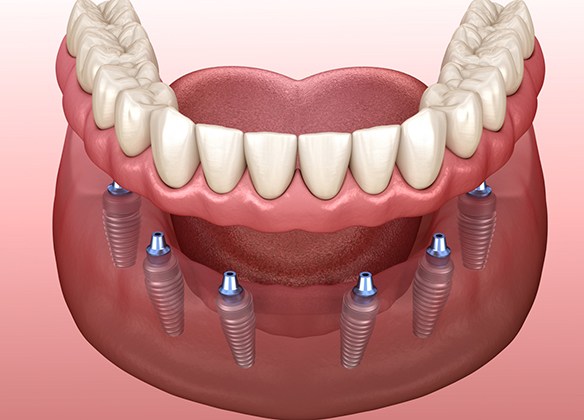 With our modern materials and techniques, you can bet that your dentures will look and feel great.
You'll get your self-confidence back after tooth loss.
Tooth loss has a huge impact on your diet. Dentures allow you to eat a wide variety of foods again.
Dentures can be used to replace any number of missing teeth.
Traditional dentures have a lower initial cost than other options, although it's important to factor in fees for ongoing adjustments.
Dentures have helped nearly 40 million Americans restore their oral health. If you're missing teeth in Wall Township and want to know how they can benefit you, contact us today!
Understanding the Cost of Dentures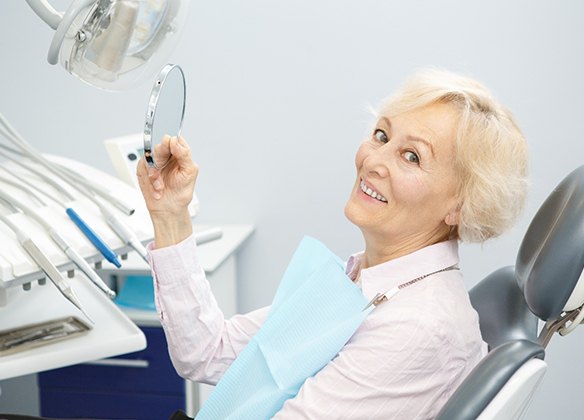 The cost of dentures in Wall Township varies from patient to patient. With so many factors to consider, our team at Shore Points General and Implant Dentistry must first examine your oral and facial structures before we can provide a thorough estimate for the cost of your new smile. It's important to remember that dentures are often made from various materials, so if you're thinking about moving toward a cheaper route, your results may not last as long. The rule of thumb is cheaper isn't always better, especially as it pertains to your customized prosthetics. Fortunately, our team is here to provide only the best in high-quality materials and trusted care. From explaining what factors contribute to your overall cost to helping identify ways to make your denture more affordable, we're here for you.
Factors That Affect the Cost of Dentures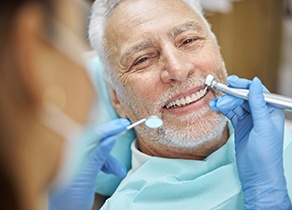 The first step to understanding how much your dentures will cost is to schedule a consultation with your denture dentist in Wall Township. Dr. Aptaker will carefully examine your smile and determine if you are eligible to receive dentures as well as if you need a partial or full denture. Other factors that must come into play include:
Preliminary Treatment: Although some patients may be free to start the process of receiving dentures immediately, there is a possibility that preliminary treatments may be necessary. These can include everything from periodontal therapy to tooth extraction to bone grafting. The status of your gum and jawbone health will largely determine if these additional procedures are necessary.
Materials Used to Create Dentures: Most partial and full dentures are made using acrylic. This creates the base for your prosthetic and is most commonly used because of its ability to blend with your existing soft tissues. You will incur a fee for use of the acrylic as well as for the labor that is required to make it.
Type of Artificial Teeth: Based on how many teeth you have that are missing, the type of denture you receive, and the number of artificial teeth needed will also be factored into the overall cost. Most teeth are made from ceramic or porcelain, but our team will go over which material is best for your future smile.
Are Implant Dentures More Expensive?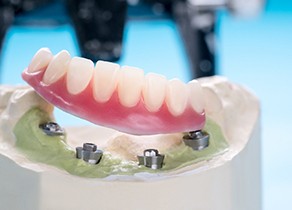 Yes, implant dentures in Wall Township are more expensive upfront; however, they are actually much more cost-effective in the long run. Why? Because unlike traditional dentures that only sit on top of your gums, implant dentures are surgically placed into your jawbone, creating a stable and firm foundation for your customized denture. Not to mention, they can remain firmly in place for a lifetime, never requiring replacement as long as you commit to taking care of your smile.
Does Dental Insurance Cover Dentures?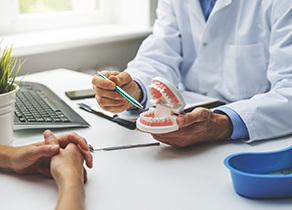 Most dental insurance companies do offer available coverage for dentures. How much they will agree to pay is largely based on whether you've met your deductible and how much is left of your annual maximum, but it is not uncommon for many insurers to cover up to 50% of the total cost. It is best, however, to contact a member of your insurance company and ask about any out-of-pocket expenses you might incur, as this will allow you to better plan for ways to pay for the remaining costs associated with your treatment.
Other Options for Making Dentures Affordable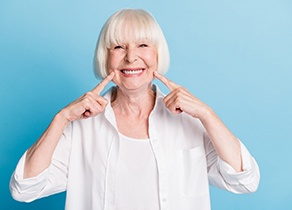 If you are uninsured, you don't have to give up hope on replacing your missing teeth. Instead, you can enroll in our own Wellness Savings Plan! By signing up for one of our available membership plans, you can pay one annual fee and receive preventive care as well as discounts on all other services, including dentures! With no yearly maximums, no deductibles, no waiting periods, no pre-determinations, and no pre-existing conditions limitations, you can save big when choosing to see us for your denture placement.
The team at Shore Points General and Implant Dentistry is here to help make denture treatment affordable. Whether filing on your insurance or enrolling in our Wellness Savings Plan, we're ready to make sure you get the card you need at a price you can afford.
Dentures FAQs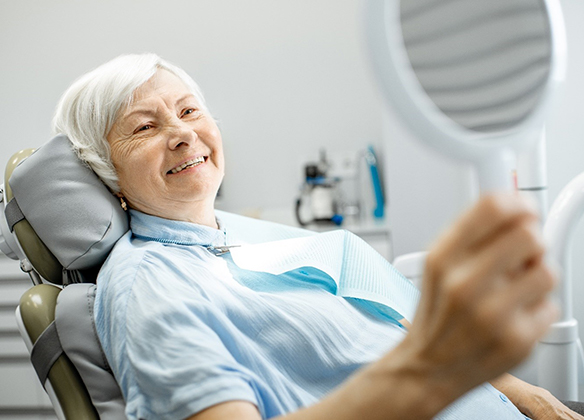 If you are considering dentures in Wall Township, you likely have many questions. Our team at Shore Points General and Implant Dentistry wants you to feel confident, comfortable, and ready to embrace a new smile, but we also want you to have all the information you need to make the right decision. To help you become more familiar with the process and expectations that come with dentures, we've listed some of the most common questions asked by current and former patients. If you do not see your question listed below, don't hesitate to contact us.
How long will it take to adjust to my new dentures?
It is true there is an adjustment period when starting to wear new dentures. Because it is a foreign object in your mouth, your jaw and tissues will need time to acclimate to the new fixture. Fortunately, there are things you can do to quicken the process and alleviate some initial discomfort:
Speak slowly at first and try practicing certain words in front of a mirror. This will allow you to see how your mouth moves when attempting to talk and give you the chance to focus on the way in which you create sound and syllables with your new denture. The more you practice, the more confident you will become.
Avoid eating hard foods in the beginning. This will cause more pressure to be applied to your denture as well as your bone and gums, resulting in additional discomfort. Eat soft foods like yogurt, mashed potatoes, and soup until you feel more confident in your ability to eat without your denture slipping.
What can I use to keep my denture from slipping?
If you have a partial denture, you will not need anything to help keep your denture in place. The metal clasps or clips that attach to your regular teeth will be enough. However, if you have a full denture, it relies on your natural suction to remain firmly on top of your gums. Should you wish to incorporate additional protection, you can buy a denture adhesive from your local drug store. Using a small amount will help give you the security you need while speaking and eating among family and friends.
What are some tips for protecting dentures?
As a denture-wearer, there are a few tips that will help to keep your new smile lasting longer, some of which include:
Daily cleaning your dentures to remove bacteria and food particles
Placing a towel in the basin of the sink to protect your dentures should you accidentally drop them
Soaking them at night to keep them from becoming brittle
Using a denture brush and cleaner to properly clean your dentures without scratching or damaging them
When should dentures be relined?
Over time, your jaw and facial structure will change. Because aging can cause this area of your face to shift, it will result in your dentures no longer fitting properly. As a result, you will need to have them relined to ensure a comfortable fit. Your dentist will be able to make the appropriate adjustments to your prosthetic by refitting its base so that you can leave with a denture that feels better, doesn't slip, and provides you with greater confidence.