Invisalign - Wall Township, NJ
Get the Straight Smile You've Always Wanted
Tired of seeing crooked, crowded, or gapped teeth in the mirror every day? Ready to NOT feel like you have to hide your smile in pictures? With Invisalign in Wall Township, NJ, we can give you the beautiful straight teeth you've always wanted without metal braces! This treatment is designed to be subtle, effective, and comfortable, and you can get it right here in Wall Township at Shore Points General and Implant Dentistry! To start your road to a new smile, contact us today.
Why Choose Shore Points General and Implant Dentistry for Invisalign?
Virtually Invisible Treatment
Great for Adults & Teens Alike
Custom-Designed For Every Patient
How Does Invisalign Work?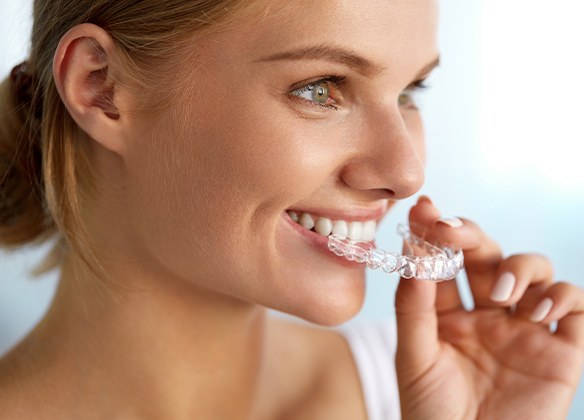 With traditional braces, metal brackets and wires are used to apply pressure to the teeth and shift them into their ideal positions over time. With Invisalign, this is accomplished using thin, clear aligner trays that fit snugly over the teeth. And since you simply remove the trays before eating or brushing your teeth, Invisalign slips seamlessly into your lifestyle.
You can start Invisalign in just a couple of visits spaced over several weeks. Here are the basic steps involved:
First, you'll have a consultation to make sure Invisalign is right for you.
From there, we'll take digital impressions of your teeth and send them to the Invisalign lab where your aligner trays will be custom made.
Then you'll come back around three weeks later to pick up your first set of trays. Many patients also need to have temporary, tooth-colored "attachments" put on their teeth to anchor the trays into place.
Then we'll go over instructions for wearing and maintaining your aligners, and you'll leave wearing your first set.
Throughout treatment, you'll wear the aligner trays at least 20 to 22 hours per day, switching to a new pair about every two weeks.
Who Is a Candidate For Invisalign?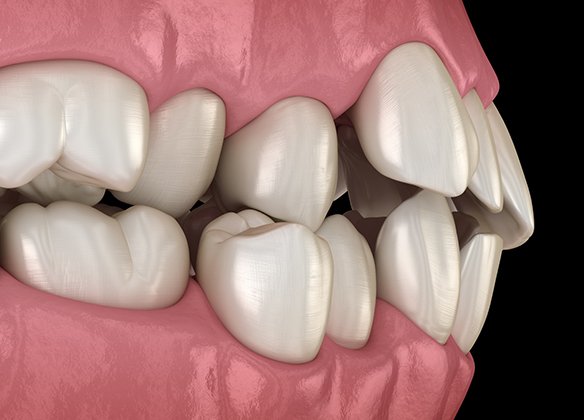 Although we may recommend traditional orthodontic treatment for severe cases, Invisalign is a fantastic option for many patients. It treats most of the same issues as metal braces, including:
Crowding
Gaps
Bite alignment issues such as underbites, overbites, crossbites and more
What are the Benefits of Invisalign?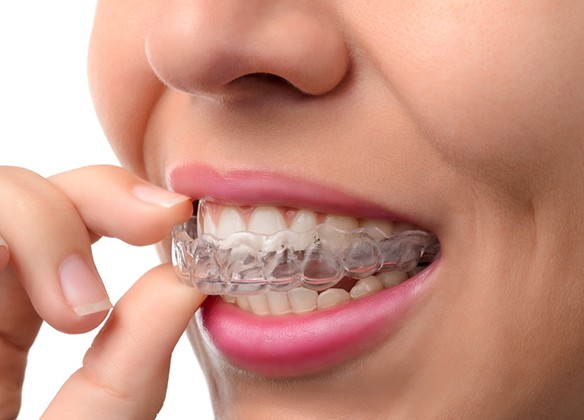 While invisibly straightening your teeth is the most obvious benefit of Invisalign, there are many other advantages to consider:
Faster results – Traditional braces stay on an average of 18 to 24 months, while the average for Invisalign is just 9 to 18 months.
Comfort – Whereas metal brackets and wires can be irritating to your lips and cheeks, smooth aligner trays are much more comfortable.
It fits your lifestyle – As long as you wear your trays for 20 to 22 hours per day, you can still take them out for special events like weddings or job interviews.
It's easier to brush and floss – Since the trays are removable, you won't have any problems brushing and flossing. That makes it a lot easier to keep your teeth and gums healthy during treatment.
Everyday Tips For Invisalign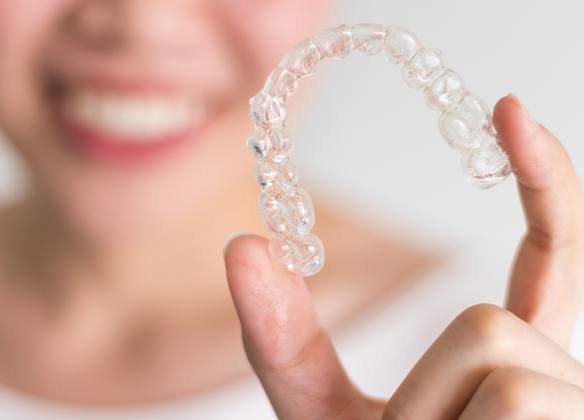 The following tips will help you get the most out of your Invisalign treatment:
Brush three times a day (after each meal) and floss once.
Carry a travel toothbrush and toothpaste with you.
Store your trays properly in their cases. If you put them in a napkin during meals, it's easy to accidentally throw them away!
Keep your trays clean with special products from us or brushing them with clear liquid soap (don't use toothpaste as it can scratch them).
Resist the urge to snack to maximize your "tray time."
Understanding the Cost of Invisalign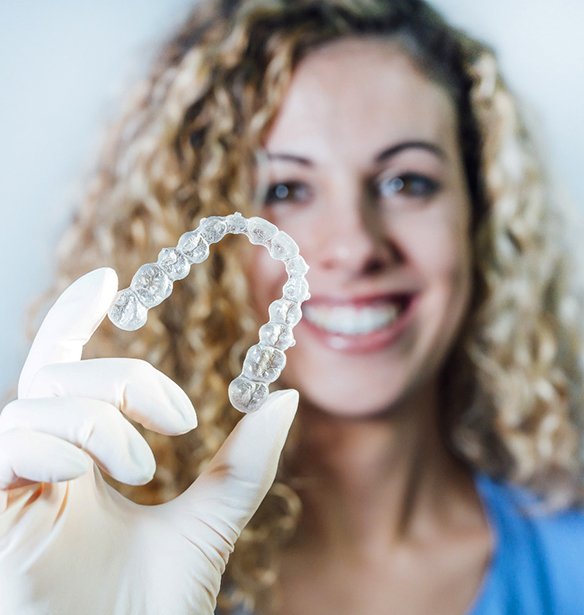 If you've been thinking about investing in your smile, you may be wondering what the cost of your Invisalign treatment will be. It's clear that Invisalign is one of the best options out there to straighten teeth, but there are many factors that can influence how much you'll need to pay. Below, our dental team goes into greater detail about these factors ahead of your next appointment.
Factors That Affect the Cost of Invisalign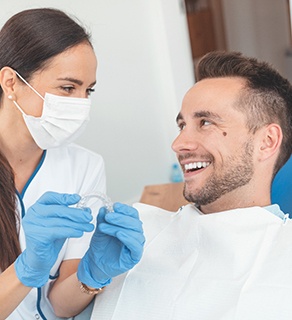 Invisalign is a highly personalized treatment, so the price you pay will likely differ from what someone else pays. For example:
Number of Arches – In most instances, dentists will use Invisalign to straighten teeth in both arches, but this is not always the case. If only one arch needs to be addressed, expect your overall costs to be lower.
Simple or Complex? – If your case is more complicated overall, you may need more aligners to straighten your smile. As an example, those with gapped teeth tend to pay less compared to those with multiple crooked or rotated teeth as well as uneven bites.
Length of Treatment – If your treatment takes more time, it usually carries a higher costs because more follow-up appointments will need to be completed.
Which Costs More: Invisalign or Smile Direct Club™?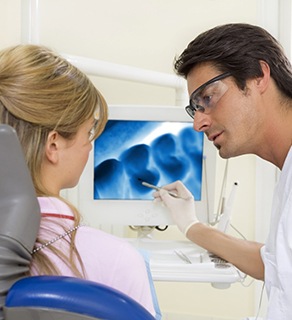 Those looking for the fastest solution to straighten teeth might find Smile Direct Club to be a more feasible option, especially considering it can be a fraction of the cost of Invisalign near Brielle. However, you really get what you pay for when you choose this option for Invisalign.
This is mainly because Smile Direct Club holds a large DIY attitude when it comes to straightening teeth. That means you don't get oversight from a professional and you have to make your own trays. A lot can go wrong as a result, leading to major issues that permanently affect your smile. In the end, you may even need to have these problems resolved by a professional regardless.
By choosing Invisalign, you ensure you're partnered with an experienced professional like Dr. Aptaker. Your aligners are far more accurate, not just because they are designed with his expertise, but using an advanced digital scanner to boot! These aspects alone make it well worth the extra time and investment.
Does Dental Insurance Cover Invisalign?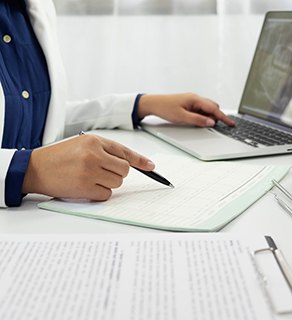 Only some dental insurance plans offer coverage for orthodontic treatment. Even then, it's not uncommon for Invisalign to be left out of that coverage. Of course, the only way to know that for sure is to check the details of your plan either with your employer or your insurance directly. Our team is happy to help you through that process. Additionally, we recommend you use your FSA account if you have one to cover costs.
Options for Making Invisalign Affordable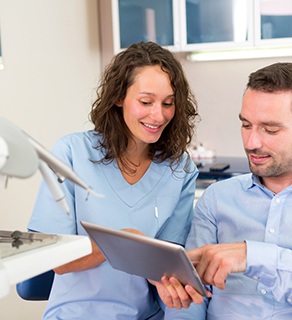 If you do not use dental insurance at this time, there are other ways to make your Invisalign treatment more affordable. For example, CareCredit enables patients to pay for Invisalign in smaller increments over a monthly period, often with little to no interest attached to these payments. This can make even expensive treatments like Invisalign far more accessible.
Alternatively, our in-office Wellness Savings Plan gives you access to 20% discounts on all services provided, helping you save a ton on both your routine services and enhancements like Invisalign.
No matter how you decide to cover your costs, our dental office near Sea Girt is happy to assist you with straightening your teeth and making treatments affordable. Schedule a consultation with us today to learn more about financing your care!
Invisalign FAQs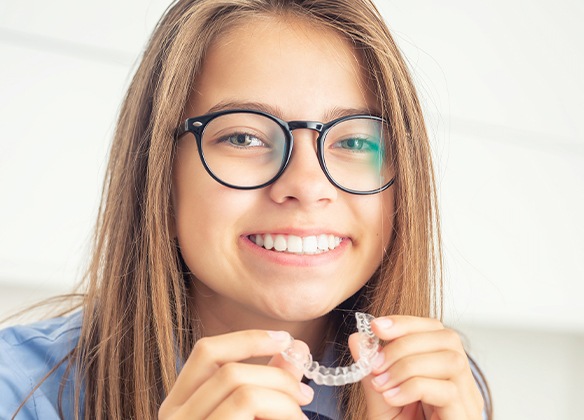 Invisalign has been a proven solution to crowded, misaligned, gapped, and rotated teeth for quite some time. Despite being around for decades, many people are still learning about this incredibly effective treatment. If you have questions about Invisalign near Manasquan, we encourage you to give us a call directly or ask us any questions during your consultation. For convenience, we've also included a dedicated series of answers to the most common questions we hear below. We can't wait to help you achieve the smile of your dreams!
What happens if I don't wear my aligners enough?
If you don't wear your aligner trays as intended, even for just a few hours out of the day, you may start to notice some minor discomfort once the trays are worn again. This is because teeth will naturally begin to shift back into their original, crooked positions when the trays are off. For this reason, the trays should only be off for about one to two hours a day so you have time to eat meals.
What happens after I finish Invisalign treatment?
Once your teeth are in their new positions, you'll be given a dedicated retainer that feels similar to the last clear aligner in your series. However, the intention of this oral appliance is to ensure your teeth do not shift back at the end of treatment. Teeth are most prone to becoming crooked again immediately following the end of treatment, so this retainer will likely need to be worn for about one year for 20 to 22 hours a day. Following that year, you should only need to wear it at night while asleep to keep teeth straight for life.
How do I avoid damaging my aligners?
Not only should you keep your aligners in a safe place at all times, but you should never wear them while chewing food. While they may be durable, they are not designed to withstand regular biting force while eating. Additionally, never use your teeth as a tool (in general, but also when wearing your aligners) as this can also crack them. Any damage to your aligners will negatively impact your treatment.
Can my child receive Invisalign?
Unfortunately, children are still developing, which means their smiles are not quite ready to receive Invisalign. However, teenagers are still considered candidates as long as they practice good oral hygiene and commit to wearing their aligners as intended.
What can I drink while wearing my aligners?
When wearing your aligners, it's recommended that you only drink plain water. If you want to consume an alternative beverage, please remove the aligners first. Avoid consuming any colored or acidic beverages while wearing aligners as this can damage and discolor them, making them less effective and more noticeable. Hot beverages can also warp their shape, so these options should be avoided as well.