Replace Missing Teeth - Wall Township, NJ
Eat, Speak, & Smile Like You Used To
Missing teeth can really make daily life less enjoyable, often forcing people to avoid certain foods, certain words, and spend less time with their friends and loved ones. If you're tired of annoying gaps dictating what you're able to eat and say, the team at Shore Points General and Implant Dentistry is eager to help. Whether you're missing one tooth or all of them, Dr. Aptaker can provide you with a beautiful prosthetic that will make you forget your teeth were ever missing in the first place. To learn more and discuss your options to replace missing teeth in Wall Township, NJ, contact us today.
Why Choose Shore Points General and Implant Dentistry to Replace Missing Teeth?
The Home of Your Local Dental Implant Experts
Solutions Specially-Designed for Each Patient
Able to Handle Even the Most Complicated Cases
Dental Bridges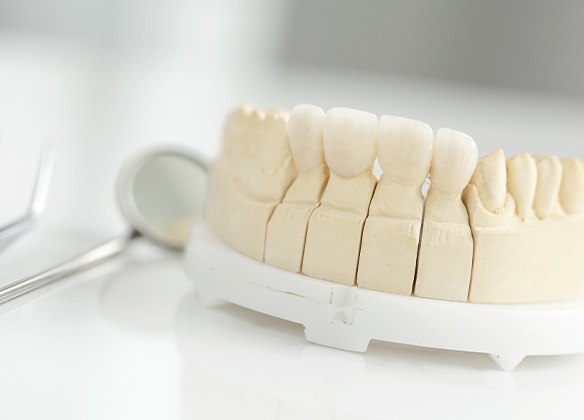 A dental bridge is a small prosthetic consisting of multiple dental crowns bonded together, and they can be used to bring back a single tooth or even up to three teeth in a row. The crowns on either end are placed over the remaining teeth adjacent to the missing ones, and these provide support for the crowns in the middle that bridge the space. Our high-quality materials and design techniques ensure that every bridge blends into the smile and can be trusted to endure daily chewing for many years to come.
Learn More About Dental Bridges
Dentures & Partial Dentures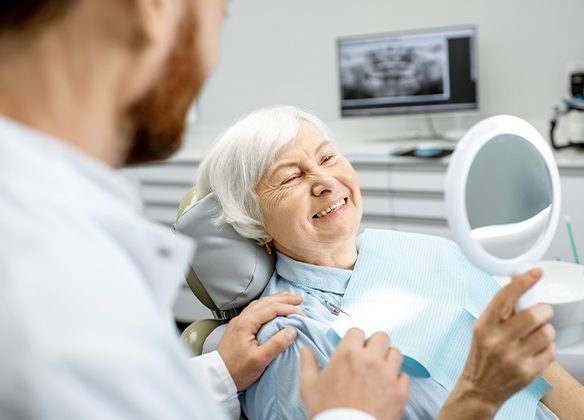 For patients missing a large number of teeth, or even all of them, the right denture can truly be life changing. A partial denture can be custom-shaped to fit among any remaining teeth like the final piece of a puzzle, while a full denture can restore an entire row while sitting comfortably on the gums. Our patients also have the option of getting implant dentures, which provide the strongest and longest-lasting hold possible.
Dental Implants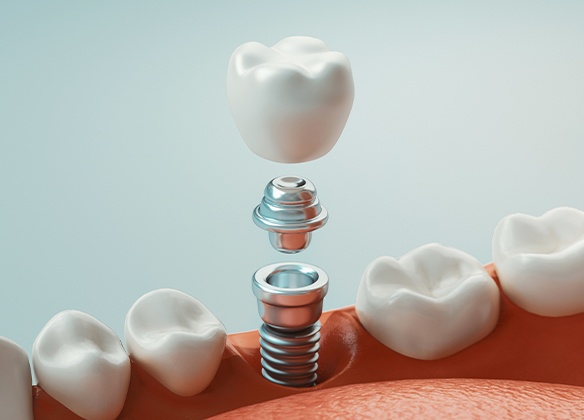 When it comes to looks, strength, and durability, no other tooth replacement even comes close to dental implants. They consist of porcelain restorations secured within the mouth using titanium tooth roots placed into the jawbone, which creates a prosthetic that is practically indistinguishable from natural teeth.
Transitional/Senior Dentistry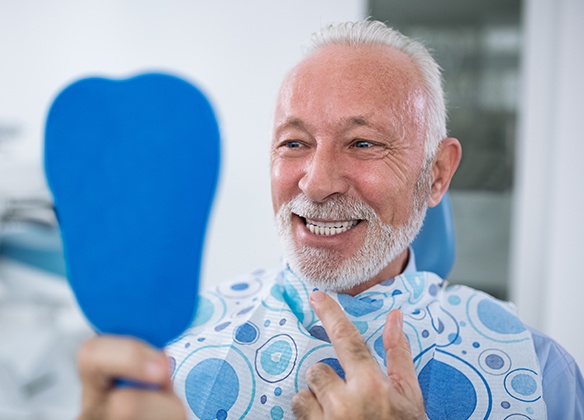 If you have children or grandchildren, you may have previously brought them to a pediatric dentist for care. Much like how a pediatric dentist caters to younger patients, Shore Points General and Implant Dentistry specializes in services that cater to older folks looking to retain their smiles and age gracefully. Dental treatments can include dentures for replacing missing teeth, major restorative treatments like dental implants, or planning for the eventual loss of teeth and future replacement strategies. Whether it's time for your routine appointment or you haven't been to the dentist in a long time, we have the expertise to meet your needs.